Recruitment & Selection
Our Vision
We have a vision 'To have a thriving economy, built around our changing town centres, creating a quality environment for all and improving the life chances of all those living and working in our borough'.
To help us achieve this vision we have identified four key priorities in the Corporate Plan - Our Place Our Plan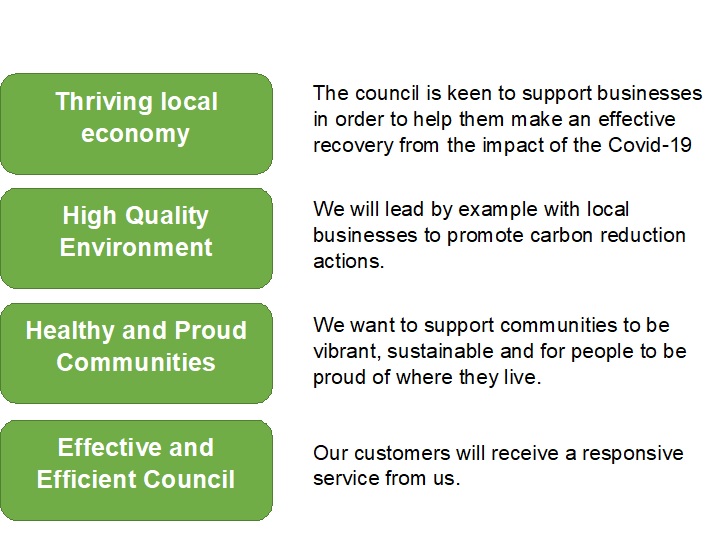 Rossendale Borough Council has a recruitment policy, procedures and guidance and provides appropriate training to those responsible for recruitment.
Following the closing date, recruiting managers review all applications. All applicants will be contacted, usually by email, to advise whether or not they've been shortlisted, and if interviewed, whether or not they've been successful. Due to the volume of applications we receive for some of our vacancies, the recruitment process can take up to four weeks. If you have not heard from us by this time, please consider that, on this occasion, your application has not been successful.
Pre Employment checks
Prior to starting work for Rossendale Borough Council the following checks are undertaken:
Confirmation of Right to Work in the UK
References - two references will be requested; one will be your current employer
Confirmation of any appropriate qualification(s) required to meet the essential criteria on the person specification – copies of any relevant qualifications will be requested if you are successfully appointed to the post
Fit to Work Medical Assessment – you will be required to complete an online assessment form
Right to Work in the UK (all posts)
To comply with legislation to ensure that all migrant workers employed by Rossendale Borough Council are eligible to work in the UK, a document check of all prospective employees must be undertaken as part of the pre-employment checking process.
Prospective employees will be requested to bring with them to interview the required evidence of their right to work in the UK. The recruiting manager/chair of panel will check these documents to protect them against the civil penalty for employing illegal migrant workers.
Original documentation that confirms entitlement to live and work in the UK includes:
a Passport/National Identity Card showing you are a British Citizen or an EEA or Swiss National
a full British Birth/Adoption Certificate along with an official document containing your name and permanent National Insurance number
or a passport or travel document endorsed to show that you are allowed to stay in the UK indefinitely or for a limited period of time and are allowed to work is required.
Please note that a short birth certificate and a driving licence are not sufficient to show entitlement to work in the UK.